This Christmas season I have stayed pretty low key. A few years of going over the top and stressing myself have led me to start taking this holiday season in a relaxed, no frills manner. It suits me!
My few gifts are wrapped and any food I need for the next few days is cooked and in the freezer ready for eating. I am just not stressing about a thing. Whew...that feels soooooo good.
So in my non-stressed mood it was a delight to go to work last night and see a name in the reservation book of someone in the family of the
woman who's recipes
I bought at a tag sale this fall. They were hardly in the door when I asked them if they new Mary... 'Of course we do', they said. They called her 'Aunt Mary' as she is the aunt of the gentleman who was dining with us. They said she is still alive and living on her own at the age of 83 or 84 and YES she loved to bake. More stories about her another day.
On Monday evening we had our Christmas party for work. No gifts was the mantra, but my friend Brian said he could not resist when he saw this vintage accordion recipe file at a tag sale. He knew it had my name on it and boy was he right. I wanted it to be just the right moment when I undid the tie and had a look inside. It did not disappoint. This is what I love so much about blogging. One small thing leads to a plethora of instant delights.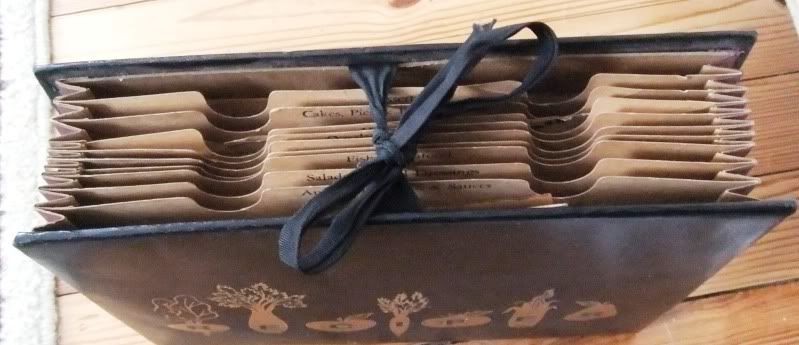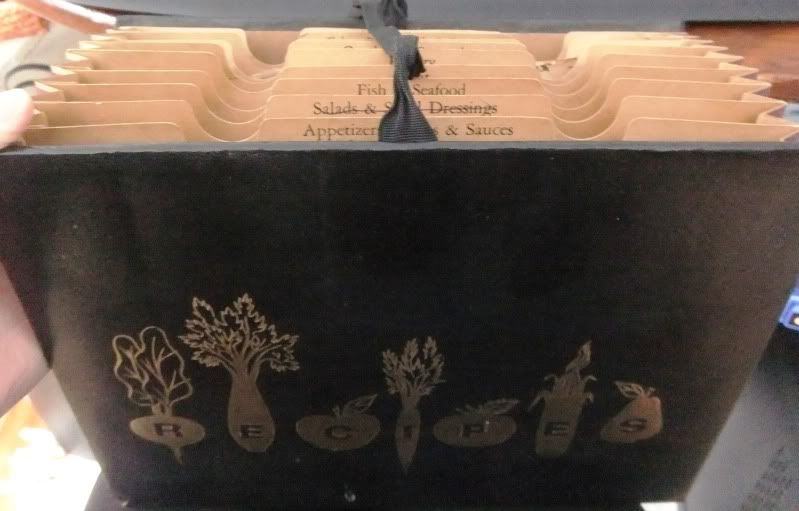 I have had so much fun imagining who the owner of these might be. All of the recipes are from the early 60's and many come out of the New York Times Magazine. They are all pristine (I am guessing she never actually cooked any of them) but liked to imagine herself one day making them. OR maybe she was one of those cooks who could cook from a recipe and not splatter, tear or otherwise damage it. It think not.
One of the best in the bunch was this ad for Kaiser "quilted" foil.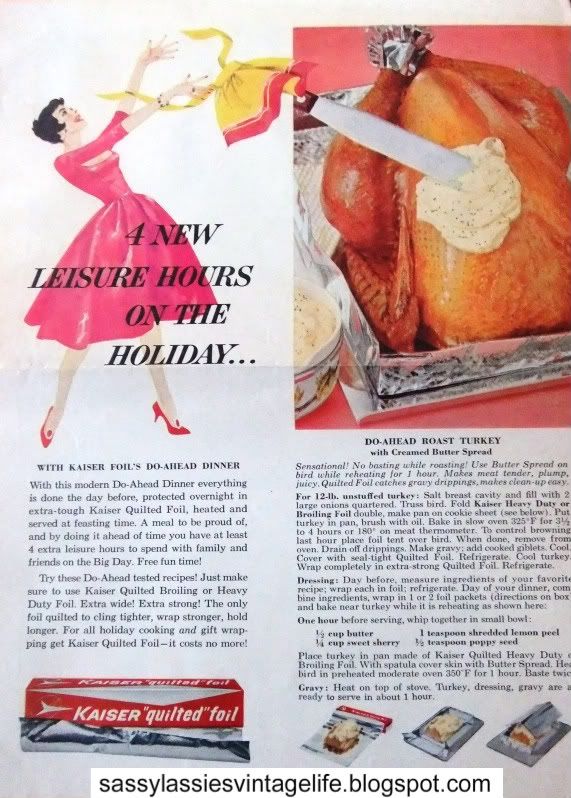 Where is this foil today? I surely would love to cook Christmas dinner the day before and keep it wrapped tightly until needed. Especially in my oh so relaxed state of being.
I did a search on the Internet for it and came up with some amazing television ads.
To all the retro lovers out there, take a few minutes and enjoy these videos. You will be smiling at the end.
THESE ADS MAKE ME HAPPYYYYYYYYYYYYYYYYY
A maverick Belt with a secret pocket all for $1.00 I want one!!!!!!!!!!!!!!!!!!!!!!!!!!!!!
And not only did Kaiser make Quilted Foil but ooooohhh la la trust me you want to see this next video