Yesterday was a gorgeous day here in quintessential New England. The temperature soared into the 70's and it was the perfect day to take a walk. Miss Moll Doll and I took a stroll up the street to visit the New Marlborough Cemetery. This is about as Hallo-weeny as I will get.
When I first moved to the new house I ran into a gentleman as he drove down this street in an old truck. He stopped and told me a couple of things about the cemetery that day. According to him it is a pretty special one. Many denominations are buried here (maybe even some Native Americans) and it is still an active cemetery today.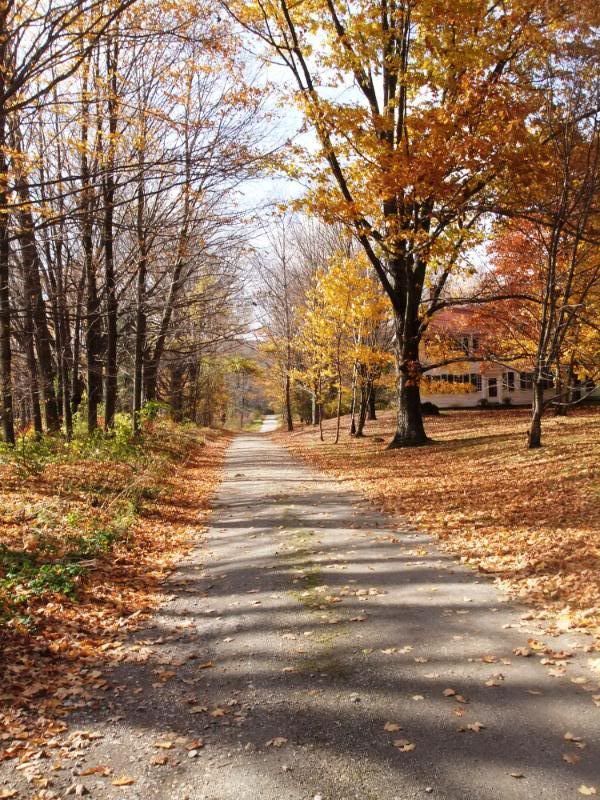 Here is an excerpt from
The New Marlborough Village News /October 2010
reported by John Schreiber
Although the township has eleven cemeteries, the New Marlborough Village Cemetery is unique in that it contains the gravestones of the very earliest settlers of the town. At the peak of each of two hills (local legend says they are Indian burial mounds) lay our two earliest Church leaders, Reverends Strong and Caitlin. In between lie Revolutionary War veterans, Civil War veterans, and the history of the early times of our town. Even more important, the cemetery, in continuous use since 1755, is still active!
Many of its beautiful headstones, however, have been damaged. Over the years, towering trees, whose branches have broken off and crashed down on the stones, have taken their toll. So, too, have the erosion of weather and the effects of lichen, which literally eats away at the stone. Without intervention, many will soon be lost forever.
Here you can see the two distinct hills thought to be Indian Burial Mounds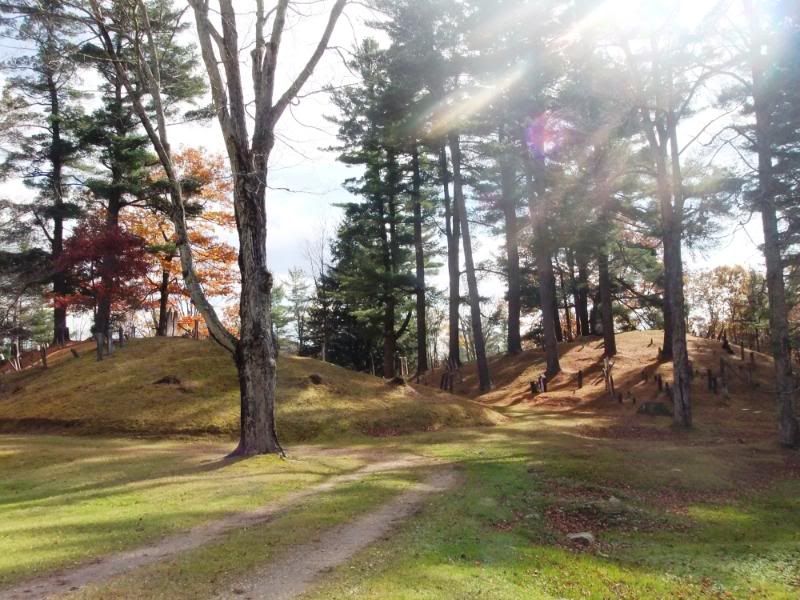 As we strolled through the cemetery we kept coming across headstones that were clearly created by the same maker.
Looking up close to these stones, you can actually see that the maker drew lines so he/she could engrave in a straight line. There are many mistakes on these as well. One had an arrow and a word above the line to signify it had been left out in the actual first engraving.
Captain Caitlin died in 1878 at the age of 89, which was rare to see in this cemetery. This may be the Reverend mentioned in the above clipping.
Lichen all over the stone.
It is hard to describe how peaceful and beautiful it was here. The ground is covered in many places with a soft spongy moss that just yearns for you to lay down and rest.
So many, many children are buried here. There was one spot where a sister and brother died within days of one another, probably from one of the many diseases that are treatable today.
How do you feel about cemeteries? Do they creep you out?
I have always loved old cemeteries and enjoy reading the stones and wondering about the lives of those laid to rest there. I don't personally ever want to be in one. I much prefer the idea of cremation, but it does not stop me from loving these old stones.