Yesterday I spent more hours than I should have involved with my Barbie's. They stole my heart once again. Like the oldest of friends, it was wonderful to be in their presence again. I know it sounds so trite, but they have been part of my life for over 46 years.
Let me tell you the
whole
story of my Barbie's... from then till now. Yawn!!!
I don't really remember getting most of my "Barbie's". I was born in 1959 and if I received her for Christmas in 1964 or 1965, I was only 4/5 years old. My first 'real' memories are when I was 5 and in kindergarten. So alas, no semblance of a memory for actually acquiring her.
I must have wanted her though, probably begged my parents for her in truth. My older sister, who is 6 years older than me, never had a Barbie, that I recall. She may correct me on this though.
I loved AND played with my Barbie's and it is very evident by how they look today. I also allowed Miss Moll Doll to play with them. 25 years ago they were only 20 years old and not as precious, so many of the outfits and accessories that I owned were lost during those years. I have nary a shoe of hers left. :( and I remember having many.
What I learned yesterday in my research:
The Barbie I own is a "Fashion Queen Barbie"
Issue Date:
1963 to 1965
Box Date:
1962
Hair Colors:
Molded hair painted brown with removable blue band
Face:
Blue eyes, brown eyebrows, coral or pink lips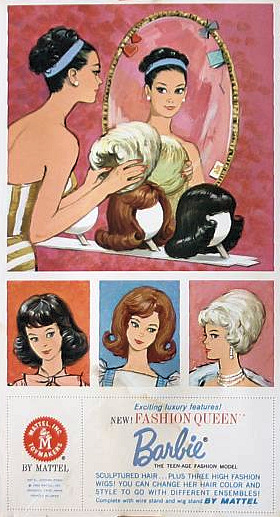 Clothing:
Gold & white striped strapless swimsuit with matching turban
Pearl Stud Earrings
White Open Toe Heels
Stand:
Black Wire Stand
Body Markings:
Midge T.M.
©1962
Barbie®
©1958
by
Mattel, Inc.
(In 1964 added the word "Patented")
Fashion Queen Barbie also came with a white plastic wig stand and three wigs: red flip, brunette pageboy and blonde bubble.
My Barbie's crossed my mind this past year as I blogged vintage. I did not know where they were. I remembered packing them away 5 years ago with our last move, but I had not seen them since and really had no idea where they were. During our recent move I made it a point (while looking through bins and bins of packed away 'stuff') to look for them. I was really scared when they never showed up. I knew they did not just walk off (well maybe she could) and I KNEW I would NEVER throw them away. Hubby? Hubby? He would not dare!! Would he? Could he? I dare say if I even thought he
might
, I don't know what I would do. I would surely be grounds for 'something'.
So this week with the holidays behind me, almost settled into our new home and with some time on my hand, I put it top on my list to find them. I started in the attic and once again went through every bin. Nope. I have to admit I was kind of scared at this point. What if I never find them? The thought of them somewhere 'out there' sent me spinning.
There was one more place I could look. I knew we had a few more bins in storage at another location. But I had been through these and did not recall ever seeing them. This storage place is a dusty dirty pile of things and not exactly the most exciting place to go. It is also cold, and not a place you want to spend a lot of time in with no heat. But for my Barbie's I was ready for anything.
I found the bins, there were about 5 of them stacked in a very hard to reach corner. I started with the first and found some of my son's childhood toys and papers. The next one held childhood memories of hubby's (he is just as much a saver as I am (more on that soon). After the 4th or 5th bin and no Barbie's, I was distraught. Where could they be? I stood on top of some bins and hands to my mouth in a yell I hollared out through the cavernous storage, "BARBIE. WHERE ARE YOU? BARBIE!"
I had one more bin to go through. It was really hard to get to and by this time I was filthy, sneezing and hoping beyond hope. I picked up the lid and saw a huge doll leg. It was my
Charmin' Chatty Doll
(more on her another day too). This was a good sign. I pulled her out and then I saw the bags. The plastic shopping bags that housed my Barbies. I almost wept with joy. There they were...along with my Trolls and Miss Moll Dolls "Strawberry Shortcake Dolls"
"Ken, what are you doing between Tammy's legs? And in front of Barbie?"
Here's my girl in her bathing suit. I had the turban for ages but it is gone now.
Up close with her red wig. Makeup still looking pretty darn good.
Even her nail polish looks okay. Barbie, my hero...keeps her nail polish on even though she has lost a finger.
I need to play with my camera to get a better shot of this.
And in her black wig which should be a pageboy. I do remember cutting this wig. Horrors. The blond "bubble hair" wig is long gone but I think it is quite amazing I have two of them still.
Here are some of the outfits I had. Some I still have and others I only have pieces from them. The one below I know I had, but no longer do.






I also spent way too much time trying to find the cardboard Barbie house I had. It took ages but I finally found the ad for it. More on the house another day.

Tell me, am I the only one who loves her Barbie's like this?
What are your memories?
Do you still have any of them?

Tomorrow I will show off my Ken Doll and today I will leave you with this.